You have read that right. New name is on the streets! We are proud to announce that Beyond Seen Screen is now officially ExRey!
Our vigorous and continuous efforts in the past few months were focused on finalising our platform and app that is due to hit the public spotlight. The brand was no exception. In our attempts to create a long lasting brand name on the market we have iterated through many key points until we have reached our new name and representation in the years to come.
ExRey now launches with a new look, website and our flagship app in the store. Head to the website (exrey.tv) to download the app and x-ray those videos to find out new and hidden content that you could not see with the naked eye 😉
New web and social media garment
Together with the rebranding package, we have launched a completely new and redesigned website to reflect our main communication points through a various set of information for business users, investors and most importantly you.
Also, you will notice that all our social networks are now revamped to reflect the new name change so don't be surprised when those ExRey notifications start hitting your devices.
We are still the same old Beyond Seen Screen team
While ExRey is our flagship product where we have decided to pursue our marketing activities as the app hits the stores, Beyond Seen Screen still stays a collective venture that serves as an umbrella company over several of our upcoming B2B products alongside ExRey. More on those in the upcoming months!
Jump over to exrey.tv to check our new style and don't forget to hit that app download button. See you around!
---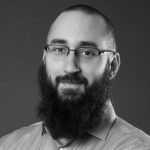 Krešimir is an experienced software development leader with a strong background in software development. He holds a degree in mathematics and computer science from University of Zagreb, Faculty of Science. Krešimir has been delivering high performance and scalable software for over 15 years. He has successfully lead both quality control and software development teams.
All author posts