South Park has been around for a long time, more than 20 years, and it's hard to frame the story of South Park without leaving something out. Everyone knows about South Park. Those who love watching it need no further explanation of what South Park is and why it is so ingenious. Those who have never watched it simply have to start watching to understand. Those who don't immediately fall in love with it will likely never grow to like it.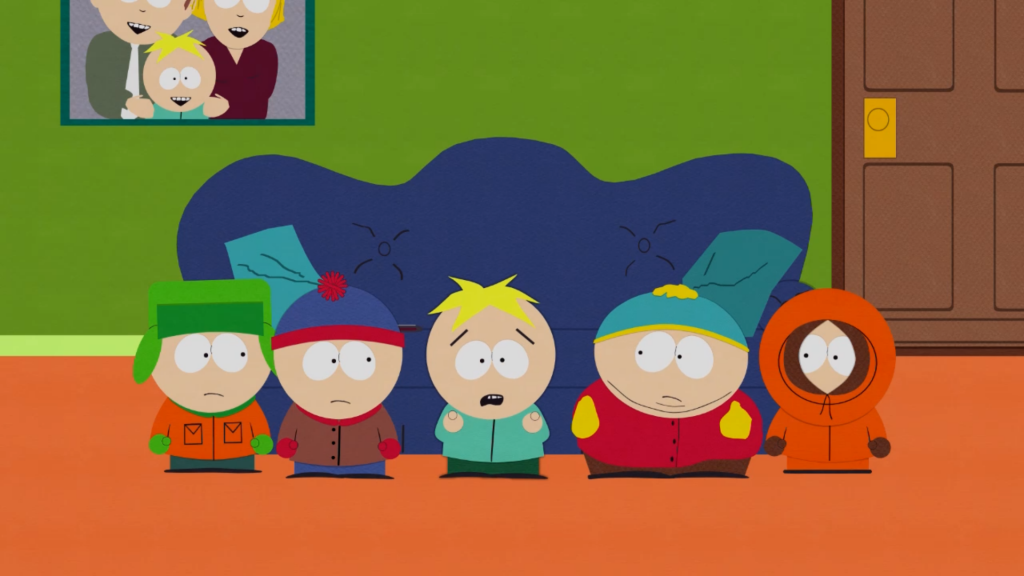 South Park has changed over time, and in my opinion for the better. The show is a kind of learning experience; an occasion to explore various topics and inform yourself more. It has repeatedly served as a source of information on very serious topics that those of us that live on the other side of the globe know little or nothing about. In addition, it sometimes happens that the trends and issues that are criticized in some episodes sooner or later appear in our countries. Thus, in the only episode of the 24th season which deals with the coronavirus, "Pandemic Special", we see that we are all equal before the corona, regardless of how developed our society is (economically, politically, socially, or morally). Our attitudes towards the coronavirus (and its impact on all of us) are more or less the same.
Human stupidity always follows roughly the same patterns and we usually use the same arguments to justify that stupidity, wherever we may find ourselves.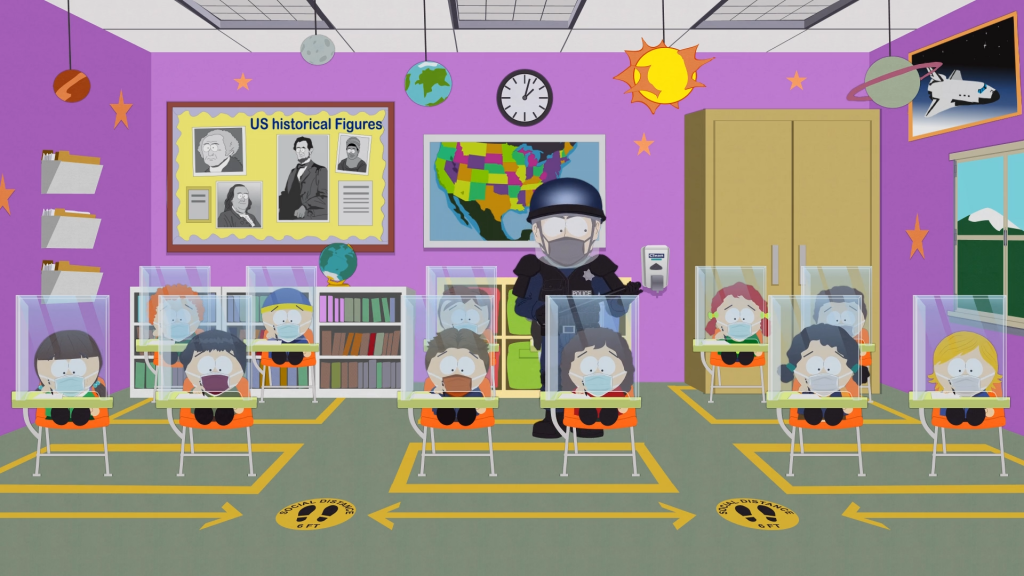 Main arguments and covid-related topics (in South Park and in real life)
Mask shaming
People who wear masks (properly) are malleable idiots who believe in covid, and covid doesn't exist at all. People who don't wear them are looking for proof that masks actually help; when was this fact-checked? And there are people between these two groups who wear a mask on their chin like some sort of chin diaper. They think they're being responsible because they have a mask; they think the spread of the virus isn't exacerbated by them at all. After all, they have a mask, and the fact they aren't wearing it correctly has nothing to do with the spread of the virus. It's hard to breathe in those things, isn't it?
School
Could we ever have imagined a time when children would want to go to school, that they would grow desperate without it, and wait for the school doors to open with impatience (everyone except Eric Cartman that is)? Zoom education is common now all around the world. Well, I definitely couldn't have predicted it.
It isn't a serious illness
Only the old and the sick die; the people who would have died anyway. "I personally don't know anyone who got infected with covid" or "I don't know anyone who had serious symptoms" or "I don't know anyone who died". The episode came out on the 30th of September 2020, so by now we all probably know a lot of people who got sick or we were infected ourselves. Back in the summer these sentences were obviously popular all over the world. On the other hand, everything is "covid-related" and "a result of covid", as if other diseases do not currently exist.
There is no middle ground
Both excessive panic and excessive carelessness are spreading. There is no middle ground. The general unpreparedness and lack of response to the disease helped spread the misinformation now inherent in many countries.
These would be some of the major points expressed in the episode, and the rest you should watch. You don't want to miss the bat rape scene or the pangolin rape scene. According to Randy Marsh, the relationship was entirely consensual. The episode lasts a little longer than 47 minutes, comparably longer than the previous 20-minute episodes.
There have been no new episodes for months. I believe it would be a little easier for everyone to get through the gloomy autumn times with the help of the weekly dose of sarcasm, brutality, and sincerity that South Park provides. I recommend watching the TOP 100 South Park episodes. These classics include some of my favorite episodes from season 5 onward and usually feature Eric Cartman. Eric is the most ingenious, talented, and the most disgusting and dumbest character at the same time. It's impossible not to love him.
There are good episodes in the first seasons as well, but I made the mistake of watching them while I was too young. I thought it was a cartoon for kids, so you'll forgive me if I'm biased because of the minor trauma incurred. The following is a list of the TOP 100 episodes that I always recommend watching. Enjoy!
Season 5
Episode 6: Cartmanland
Episode 7: Proper Condom Use
Season 6
Episode 10: Bebe's Boobs Destroy Society
Episode 8: Red Hot Catholic Love
Episode 16: My Future Self n' Me
Season 7
Episode 1: Cancelled
Episode 9: Christian Rock Hard
Episode 13: Butt Out
Season 8
Episode 1: Good Times With Weapons
Episode 2: Up the Down Steroid
Episode 3: The Passion of the Jew
Episode 5: AWESOM-O
Episode 9: Something Wall-Mart This Way Comes
Episode 13: Cartman's Incredible Gift
Season 9
Episode 1: Mr. Garrison's Fancy New Vagina
Episode 5: The Losing Edge
Episode 6: The Death of Eric Cartman
Episode 8: Two Days Before the Day After Tomorrow
Episode 9: Marjorine
Episode 10: Follow That Egg
Episode 11: Ginger Kids
Episode 14: Bloody Mary
Season 10
Episode 6: Manbearpig
Episode 7: Tsst
Episode 8: Make Love, Not Warcraft
Episode 10: Miss Teacher Bangs a Boy
Season 11
Episode 2: Cartman Sucks
Episode 5: Fantastic Easter Special
Episode 6: D-Yikes!
Episode 7: Night of the Living Homeless
Episode 8: Le Petit Tourette
Episode 9: More Crap
Episode 14: The List
Season 12
Episode 1: Tonsil Trouble
Episode 6: Over Logging
Episode 9: Breast Cancer Show Ever
Episode 12: About Last Night…
Episode 14: The Ungroundable
Season 13
Episode 1: The Ring
Episode 2: The Coon
Episode 3: Margaritaville
Episode 6: Pinewood Derby
Episode 9: Butters' Bottom Bitch
Episode 10: W.T.F.
Episode 13: Dances with Smurfs
Season 14
Episode 1: Sexual Healing
Episode 2: The Tale of Scrotie McBoogerballs
Episode 3: Medicinal Fried Chicken
Episode 4: You Have 0 Friends
Episode 9: It's A Jersey Thing
Season 15
Episode 4: T.M.I.
Episode 7: You're Getting Old
Episode 8: Ass Burgers
Episode 11: Broadway Bro Down
Episode 13: A History Channel Thanksgiving
Episode 14: The Poor Kid
Season 16
Episode 1: Reverse
Episode 9: Raising The Bar
Episode 10: Insecurity
Season 17
Episode 1: Let Go, Let Gov
Episode 2: Informative Murder Porn
Episode 6: Ginger Cow Cowgirl
Episode 5: Butterballs
Episode 7: Cartman Finds Love
Episode 8: Sarcastaball
Episode 10: The Hobbit
Season 18
Episode 2: Gluten Free Ebola
Episode 3: The Cissy
Episode 4: Handicar
Episode 5: The Magic Bush
Episode 7: Grounded Vindaloop
Season 19
Episode 1: Stunning and Brave
Episode 4: You're Not Yelping
Episode 5: Safe Space
Episode 6: Tweek x Craig
Season 20
Episode 2: Skank Hunt
Episode 3: The Damned
Episode 10: The End of Serialization As We Know It
Season 21
Episode 2: Put It Down
Episode 3: Holiday Special
Episode 6: Sons a Witches
Episode 7: Doubling Down
Episode 8: Moss Piglets
Episode 9: SUPER HARD Pcness
Episode 10: Splatty Tomato
Season 22
Episode 1: Dead Kids
Episode 2: A Boy and a Priest
Episode 4: Tegridy Farms
Episode 8: Buddha Box
Season 23
Episode 2: Band in China
Episode 3: SHOTS!!!
Episode 4: Let Them Eat Goo
Episode 7: Board Girls
Episode 8: Turd Burglars
Season 24
Episode 1: The Pandemic Special
Created by Trey Parker and Matt Stone
Developed by Brian Graden for Comedy Central
Main characters: Stan Marsh, Kyle Broflovski, Eric Cartman, Kenny McCormick
If you think you may have missed something, please click on the button below to find out all about your favorite movie or series.