Eddie the Eagle is a 2016 biographical sports film directed by Dexter Fletcher. The film stars Taron Egerton as Michael Edwards, a British skier who in 1988 became the first competitor to represent Great Britain in Olympic ski jumping since 1929. Hugh Jackman, Christopher Walken, Iris Berben and Jim Broadbent co-star in the film.
The film may remind you of the 1993 film Cool Runnings that follows the Jamaican bobsled team, which competed in the same Olympics and has the same message.
First of all, the film will likely make you cry. Don't expect a masterpiece but do expect a lot of positive emotions. Yes, it may be full of clichés, but why people are afraid of clichés is a mystery to me. Starring Taron Egerton as Michael Edwards, the first competitor from Great Britain in ski jumping since 1929. His biggest dream, since childhood, was to participate in the Olympic Games. Eddie, as everyone called him, had a lot of difficulties growing up because of knee problems. He always had to prove himself more than the competition. Everything was stacked against him and his road to the Olympics. Even Eddie's own father wanted him to give up on his dream.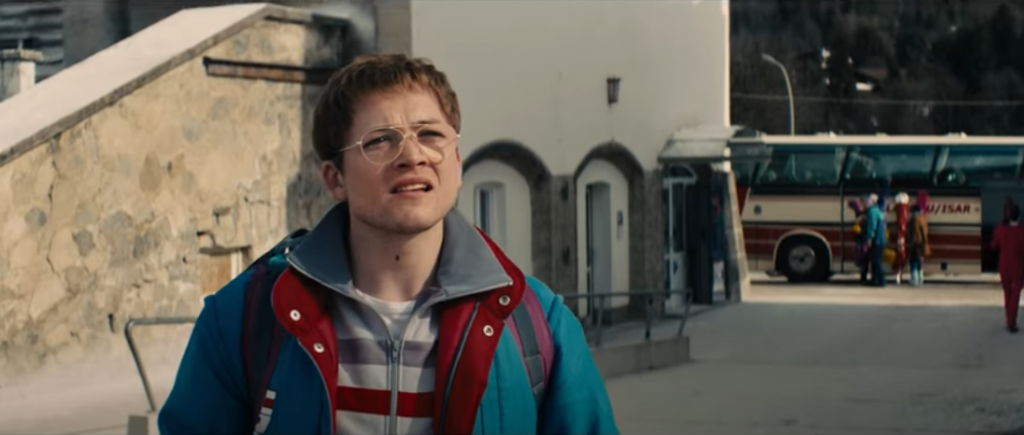 Throughout the first half of the film, Eddie often hears comments that he isn't a real athlete, or that he has to get a real job, like that of a plasterer, his father's profession. Unlike his father's constant stream of pessimism, Eddie's mother supports her son. While Eddie is successful in skiing, he isn't selected for the Olympic team and is told he isn't and will never become "Olympic material". After a while, Eddie gives up on the idea of ​competing in the Olympics, realizing he actually wants to go to the Winter Olympics! From that moment on, he becomes fully dedicated to ski jumping and begins preparations for the 1988 Olympic Games hosted in Calgary.
The UK hasn't had a representative in the sport since 1929, meaning Eddie is to become the only member of his country's team. His road to the Winter Olympics isn't easy as he needs to travel to Germany to start his training. Without a coach or special equipment, but with a lot of willpower and perseverance, Eddie starts his self-training on the lowest jumps in Garmisch-Partenkirchen in West Germany.
After successfully completing the 15-meter (49 ft) hill on his first try, he injures himself during his first attempt at a 40-meter (130 ft) slope. There he meets snow groomer Bronson Peary, who is a former star of the sport. Peary is a former champion American ski jumper who left the sport in his twenties after a conflict with his mentor, Warren Sharp. He advises Eddie to give up on his dream, but Eddie doesn't listen. There is little time left until the 1988 Olympics and, after lots of persuasion, Peary decides to help Eddie with his unusual training methods.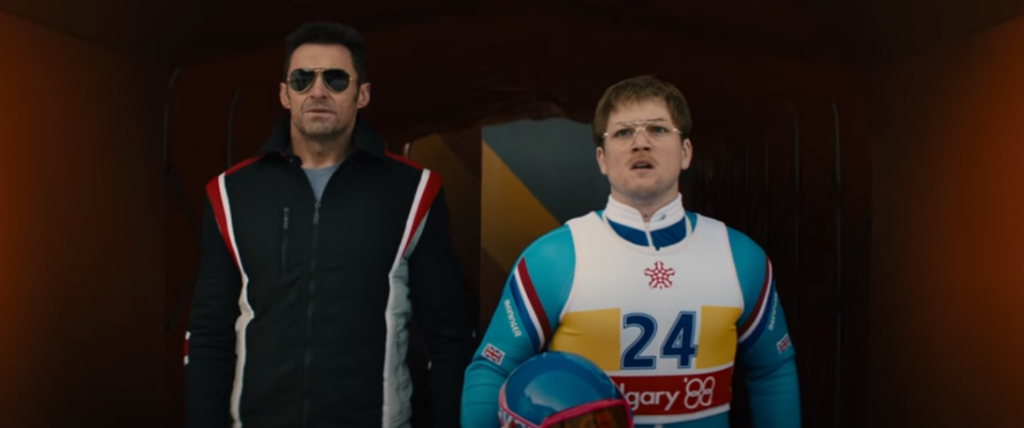 In order to qualify for the Olympics to qualify for the British Olympic division in ski jumping, Eddie only needs to complete a jump from a 70-meter (230 ft) hill. Despite bureaucratic problems and numerous other difficulties, Eddie manages to qualify.
Even though he finishes last in the 70m jump with 60.5 meters (198 ft), Eddie sets a British record. His triumphant celebrations win the audience over, and the media embrace him as Eddie "The Eagle". Eddie publicly apologizes for becoming a media sensation over seemingly nothing and overshadowing other athletes' accomplishments. He wants to be remembered by his accomplishments and enters the 90-metre (300 ft) jump, which he has never attempted before.
Eddie miraculously lands a 71.5-metre (235 ft) jump. Once again, he comes last in the event, but is nonetheless cheered by the audience and TV viewers worldwide, which earns him recognition in the closing speech made by the President of the Organizing Committee for the Olympic Games, Frank King, who has this to say to the competitors: "You have broken world records. You have established many of your own personal bests and some of you have even soared like an Eagle".
British Olympic officials begrudgingly accept Eddie. Warren Sharp is reconciled with Bronson, and Edwards returns home a national hero, welcomed by fans at the airport, as well as his mother and father. The latter reveals he is wearing a jumper that reads "I'm Eddie's dad," and says he's proud of his son.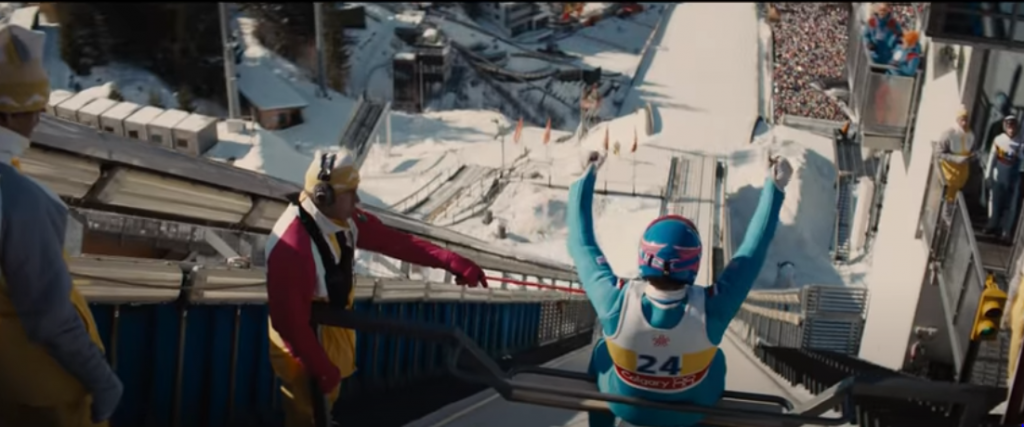 The film may be full of exaggerations, clichés that have been added to the story to give it more emotional impact, but nonetheless, the film has a wonderful message. In my opinion, clichés are good in cleverly made films. The film has a good script, good actors and a great soundtrack, and the fact it's based on true events will inspire millions of viewers around the world. Some may resent that Eddie was shown in a wrong light in the film, but I came across an interview in which he himself says how much he liked the film and that he ended up crying. Yes, maybe he was just being polite, but I want to believe he was being honest. I enjoyed the film, especially its message that you should never give up on your dreams, that no matter the circumstances you should believe in yourself. I believe a lot of people (like me for example) have never heard of Eddie the Eagle before watching the film, a person who embodied the message that it's important to participate, not just win, a person embodied perseverance and steadfastness. The film is successful in giving rise to powerful emotions and turning a story about one man's unlikely accomplishments into an inspiration for all viewers.
Enjoy the movie and let it motivate you to follow your own dreams!
Director: Dexter Fletcher
Writing Credits: Sean Macaulay, Simon Kelton
Starring: Taron Egerton, Hugh Jackman, Christopher Walken, Iris Berben, Jim Broadbent
If you think you may have missed something, please click on the button below to find out all about your favorite movie or series.