Horror movies are the least dear to me of all the possible film genres several reasons. I can even sometimes understand the need for such films, but for me they are very low on the priority scale. What I usually associate with horror movies, apart from nonsense, is their very frequent naivety and illogicality.
I would divide horror movies into two types. The first would be those horrors that are simply out of the question, those I have never watched for more than a few minutes and don't plan to. In that first group, I put all those movies in which people are the main cause of horror. Any kind of torture, killing, abuse, any type of violence that's caused by people. Worst of all, such scenes can unfortunately happen in real life as the human species has proven its monstrosity many times already, both toward its own species and towards other ones. Such films are by all means out of the question.
The next type or category, which I actually can handle, are horror movies with elements of fantasy. Such horrors are quite flexible because they give viewers a choice. You can believe in the supernatural, demons, ghosts, and the like if you want to, it all depends on you and how it suits you at that moment. If it gets too scary the mantra It's not real! can always help! Humans are real and can be really cruel, but when it comes to ghosts, demons, evil aliens, their reality depends on the viewer. The power is actually in our hands. And that's what I like about them.
The film, more precisely the series of films, which I surprisingly liked very much is Insidious. This includes the films Insidious (2010), Insidious: Chapter II (2013) and the two prequels Insidious: Chapter III (2015) and Insidious: The Last Key (2018).
The film series didn't get the highest ratings and critics had their objections, but I was thrilled. Scared, but as thrilled as I ever was be watching a horror movie. There's no blood, no physical violence, it's not naive or illogical. It's awesome because of its atmosphere of tense anticipation. Besides, the cast is great with Patrick Wilson and Rose Byrne in the lead roles, and Barbara Hershey and Lin Shaye in the supporting cast.
Plot
The first film's plot follows the Lambert family: married couple Josh (Patrick Wilson) and Renai (Rose Byrne), their sons Dalton, Foster, and their infant daughter Cali. They move into a new home where Dalton is drawn to the attic and is frightened by something in the shadows. The next day Dalton falls into an unexplainable coma. After three months of hospital treatment, there is no improvement. Josh and Renai are allowed to take him home, and soon after Dalton's return various unusual and frightening events begin to happen. Strange characters and disembodied voices start appearing in the house. They soon move to another home, but equally horrible events happen there as well. Soon at the invitation of Josh's mother Lorraine (Barbara Hershey) comes Elise Rainier (Lin Shaye), a psychic, and paranormal investigators Specs and Tucker. Elise senses a demonic presence near Dalton. We learn that Dalton has the ability to travel to the astral plane, detaching himself from his body, and had been doing so in his sleep. He traveled too far and has become lost in a purgatory realm called "The Further", a place inhabited by the tortured souls of the dead. Without his mental presence, Dalton's body is now an empty vessel for demons to enter the physical world, to cheat death. Elise performs a session to communicate with Dalton.
The last scene of the first film hints at a sequel. In the second film, the Lambert family's story continues, but now the attention is on Josh Lambert who also possesses the ability to travel to "The Further". In his childhood Josh had encounters with the otherworldly and demons who wanted to possess his body. Here we go back in time and learn more about Josh Lambert's story and how and why Elise appeared in the family's lives.
The third film is a prequel and takes place chronologically a few months before the case of Dalton Lambert. We see completely new characters and learn why Elise works alongside the unusual duo of Specs and Tucker. In the fourth film, we learn more about Elise's life and her gift, which brought her more harm than good. This one is a bit weaker than the other films in my personal opinion, in terms of the persuasiveness of the story and the script. At some points, there was too much naivety and illogicality on the part of the characters. What I liked about it was its connection to the first film, as its plot takes place directly before Dalton's case.
Rose Byrne & Lin Shaye
The reason I dared to watch the film for the first time is definitely actress Rose Byrne. For me, she's one of those actresses I think can't appear in a bad movie. She was able to perfectly evoke the wide range of emotions that a person can feel in such eerie moments. Just as the film attracted me because of Rose Byrne, it kept my attention because of Lin Shaye. Lin Shaye is quite possibly the best choice for the role of Elise Rainer. Her look radiates positive energy and warmth, and her positive approach creates a great counterbalance to the very negative, frightening, and dangerous environment. When she is in the scene the viewer has a sense of security, comfort, and relief. She is the brightest character, protective, almost maternal, who can boldly solve a problem regardless of her own insecurities and fears. You want her constant presence and can't wait for her to show up again.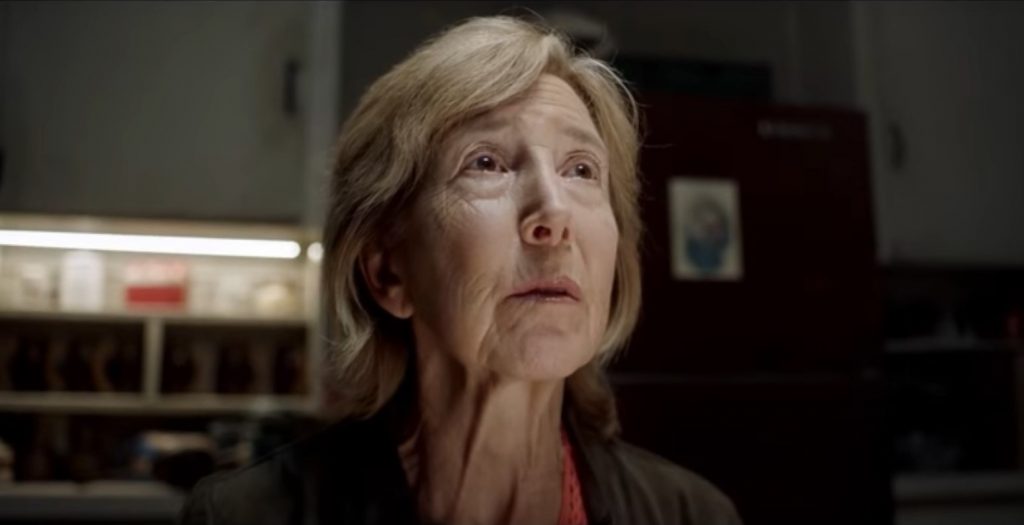 Impression
The visual effects successfully created and emphasized the weight and creepiness of individual moments. The demons and ghosts are all portrayed differently, from somewhat clichéd to very imaginative. All in all, the film avoids creating the impression of banality. As for the sound effects, you will actually shiver, especially when there is complete silence. Although there are unexpected jump scares, the main tension is in the anticipation, when you expect something in the dark and there is nothing, and in the next scene there could be something there again, but it is not. You feel a strange presence, but you do not see it. Such moments may feel like an eternity.
As much as I didn't used to like horror movies, I have to admit I actually enjoyed this. Insidious, in spite of being a horror film, is an almost ideal ratio of fantastic, scary, and positive combined with good acting and screenplay. Yes, you may sometimes need to use the mantra It's not real! It's not real!, but there is enough counterbalance in the film to make it bearable. I would recommend the Insidious movie series to anyone, even those who are absolutely convinced they hate horror movies!
Insidious (2010)
Directed by James Wan
Written by Leigh Whannell
Starring: Patrick Wilson (Josh Lambert), Josh Feldman (young Josh), Rose Byrne (Renai Lambert), Lin Shaye (Elise Rainier), Ty Simpkins (Dalton Lambert), Barbara Hershey (Lorraine Lambert), Leigh Whannell (Steven "Specs"), Angus Sampson (Tucker)
Insidious: Chapter 2 (2013)
Directed by James Wan
Written by Leigh Whannell, James Wan
Starring: Patrick Wilson (Josh Lambert), Garrett Ryan (young Josh), Rose Byrne (Renai Lambert), Lin Shaye (Elise Rainer), Lindsay Seim (young Elise), Ty Simpkins (Dalton Lambert), Barbara Hershey (Lorraine Lambert), Leigh Whannell (Steven "Specs"), Angus Sampson (Tucker), Steve Coulter (Carl)
Insidious: Chapter 3 (2015)
Directed by Leigh Whannell
Written by Leigh Whannell
Starring: Lin Shaye (Elise Rainer), Dermot Mulroney (Sean Brenner), Stefanie Scott (Quinn Brenner), Leigh Whannell (Steven "Specs"), Angus Sampson (Tucker)
Insidious: The Last Key (2018)
Directed by Adam Robitel
Written by Leigh Whannell
Starring: Lin Shaye (Elise Rainer), Ava Kolker (little Elise Rainier), Hana Hayes (young Elise Rainier), Leigh Whannell (Steven "Specs"), Angus Sampson (Tucker), Spencer Locke (Melissa Rainier, Elise's niece), Caitlin Gerard (Imogen Rainier, Elise's niece), Bruce Davison (Christian Rainier, Elise's younger brother)
If you think you may have missed something, please click on the button below to find out all about your favorite movie or series.