The film The Full Monty (1997) has won multiple awards for good reason. It won an Oscar for Best Music, Original Music or Comedy and was further nominated in three categories for Best Picture, Best Director and Best Original Screenplay. The film was awarded the BAFTA Audience Award, Best Picture, Best Performance by an Actor in a Leading Role and Best Performance by an Actor in a Supporting Role, as well as many other awards.
The Full Monty is a British comedy that lasts only 91 minutes, but it's so fun and has so many layers that it's absolutely impossible not to fall in love with.
The action takes place in the English city of Sheffield, which proudly housed many steel factories and was called "a city on the move" in the 70s. After 20 years, these factories have left behind many unemployed, dissatisfied, and unhappy people. The film follows the fates of several former steelworkers who are now finding different ways to fill their free (unemployed) time and empty pockets. The story does not go into detail, we learn only a little bit about each character, but it's more than enough to understand the core of the problem; the consequences of unemployment such as loss of self-confidence, and the emergence of complexes that affect the lives of the whole family.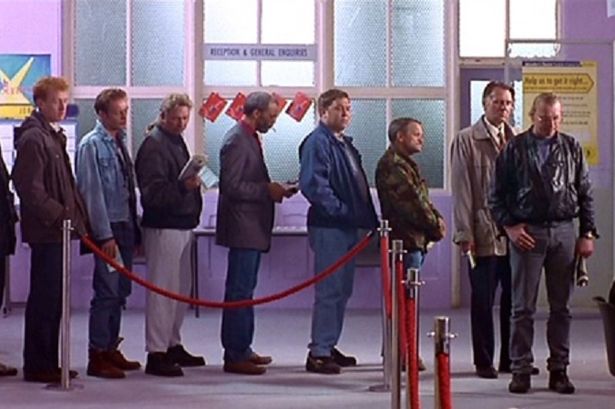 Depression and lack of money hit the main character Gaz (Robert Carlyle) and his best friend Dave (Mark Addy) hard. After a failed theft attempt at a former factory, on the way home, they spot a women-only event in the local club, a performance by the stripper group Chippendales. Gaz remains impressed by the raucous audience of Chippendales' performances.
Everyone looking for a job goes to a job club, although they almost never get a job. The job club is definitely the most depressing place in the film and a trigger for darker thoughts. For instance, that after a few years more men will no longer be needed, that women will turn into men, and that man will only be seen at the Zoo. And then, there are also the Chippendales. They are men that attract thousands of women. And if each is paid £10 times a thousand, that's a lot of money. It's worth thinking about. That is why Gaz is founding his own group of strippers called Hot Metal, and we follow their development from finding a coach, their audition, training, rehearsal, and performance. Their ace up their sleeve, something the young, handsome, muscular Chippendales would never do, is the determination to go all the way – "the full monty". A handful of vicissitudes, mundane and exceptional situations, family problems, self-doubt, and ending up in prison for indecent exposure, all take place very naturally with fantastic humor.
As previously mentioned, the film briefly presents the story from the perspective of several characters.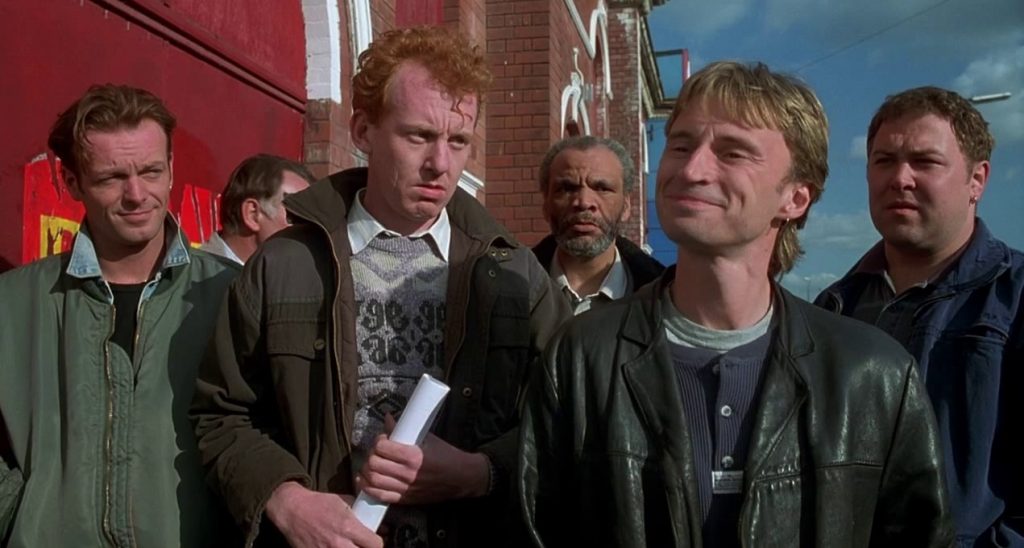 Gaz and his son Nathan
Gaz is in financial trouble and unable to pay alimony, which could lead to loss of custody over his son Nathan (William Snape). That's also one of the reasons why his stripper idea came to life, as Gaz could earn the £700 needed for alimony really quickly. Nathan, who is about 10 years old, is involved in the thefts from the former factory, and is also present at rehearsals, although he is not happy with that at first. Yet he is Gaz's driving force and in the finale, before the big performance, the biggest support for him. Their relationship greatly improves during the preparation process.
Gerald and the perfect life
Gerald (Tom Wilkinson) is a former foreman, a higher position than all the others had held, but now he's one of them. Gerald lives a double life. He does not want to admit to his wife that he is unemployed, telling her he has been "going to work" every day over the course of 6 months, when in fact he was in a job club. Although the standard is gone and there is no money, his idealized image must be maintained. His wife finds out the truth after they start taking things out of the house. Then all the masks fall off. A brief dialogue between Gerald and his wife shows that they don't really know each other. He lied about work and she lied about liking garden gnomes. It was all just part of the perfect picture. The rest of the team isn't on the best of terms with Gerald, especially after an unsavory joke that makes him lose a job opportunity, but since he no longer had anything to lose he agrees to be their choreographer, coach, and member.
Lomper and Guy
We meet Lomper at the time of his suicide attempt by breathing exhaust fumes from his car. He chose this method rather than, for example, jumping off a bridge or having a friend hit him with a car because he can't stand heights and has no friends. Dave and Gaz save him and Lomper joins Hot Metal. Guy applied for the audition and he deserved his place in the group. While preparing for the performance, Lomper and Guy discover their emotions towards each other and start a relationship. Only a few minutes are devoted to this, but we see how life changes for Lomper, from attempted suicide to finding love and a new meaning in life.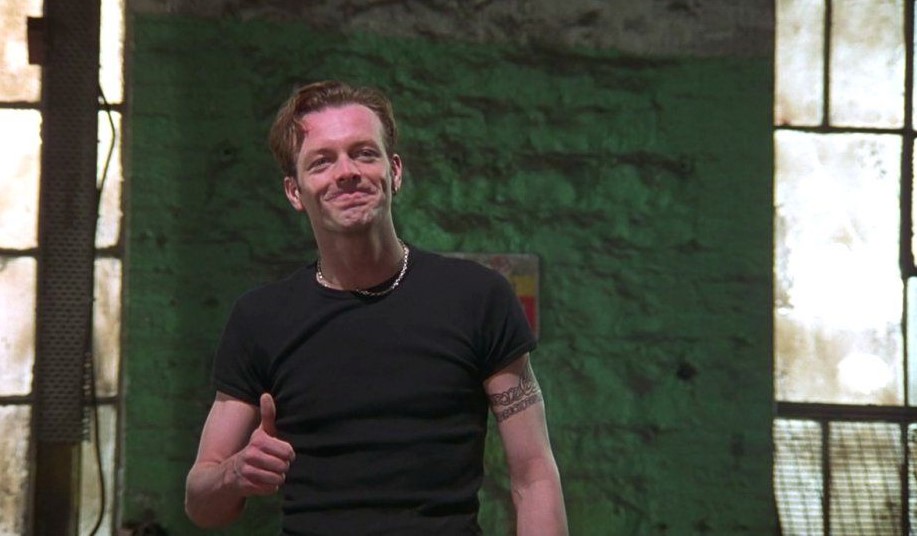 Dave and Jean
In my opinion, one of the most beautiful moments in the film is between Dave and Jean (Lesley Sharp). Dave is perhaps most affected by depression, which is also reflected in his intimate life. In addition to being unemployed, Dave has an obesity problem and lacks confidence. Dave and Jean haven't been intimate in a while, although her emotions toward Dave are still strong. The best moment is when Jean finds Dave's red thong (his performance costume). In addition, he starts using body lotion. He never used lotion for her, and now Jean things she has everything figured out, she thinks Dave has a mistress. Dave tells her the truth, that he and the guys are strippers, explaining that they wanted to make some money quickly. But Dave gave up, thinking nobody would want to look at him. Jean, visibly shocked, replies that she wants to watch him perform. This is a very powerful moment that speaks to the fact that sometimes we have a faulty perception of ourselves and that loves ones see us differently. After talking to Jean, Dave becomes the hotshot of Hot Metal.
It is quite clear why The Full Monty is so popular. It talks about normal human problems that most people can identify with. Perhaps not with the situation itself, but the issue of confidence, personal growth and getting out of the comfort zone. It is interesting to observe all of these themes through a male lens, where gender roles are reversed; to see how men deal with their self-image when they are objectified, when women assess their physical shortcomings and compare.
In addition to the fantastic script, there is also a great selection of music, such as the song "Donna Summer's Hot Stuff", which is perhaps the most recognizable soundtrack from the film. The film ends in the best possible way, with their performance to Tom Jones's song "You Can Leave Your Hat On". The last second of the film is a climax that can only delight and liberate the viewer.
Directed by Peter Cattaneo
Starring Robert Carlyle, Mark Addy, William Snape, Steve Huison, Tom Wilkinson, Paul Barber, Hugo Speer
Written by Simon Beaufoy
If you think you may have missed something, please click on the button below to find out all about your favorite movie or series.